Thirty Ads
In Thirty Days
Challenge
​
Sheltered in place during the Corona Virus outbreak has been a challenge for everyone in every walk of life. To keep myself occupied and keep my creative juices flowing, I decides to challenge myself to come up with a new ad or ad campaign every day for 30 days. These are some of my more successful concepts for a variety of brands, not actual clients, but hey, you never know. Stay tuned as I add more work to the page.
DAY 1: AIRSTREAM has been making high-end trailers for decades. What better way to practice social distancing and see the beauty of the country than with a luxury trailer in tow.
DAY 2: NIKE AFTERWEAR is a concept that asks, "What if Nike launched a line of fine tailored clothing?" Well, here's how I interpreted that. Not with well known professional "Nike" athletes, but with real high school athletes. The photos are courtesy of Jeff Dietz.
DAY 3: LEVIS LINGERIE
The brief, what if Levi's made women's undergarments out of denim? Simple and clean.
DAY 4:
VIRGIN GALACTIC + COKE
​
I decided to combine two briefs to created a co-branded ad. The Virgin Galactic brief was to promote space travel opportunities. The Coke brief was to position Coke as a premium brand. My thinking was that if you've got the scratch to afford a trip to the moon, you would expect everything about the trip to be premium. Premium by association.
DAY 5: FORD TOUGH BABY This was a fun one. The brief: How would you promote baby toys if they were "Built Ford Tough."
DAY 6: GEICO TIME INSURANCE What if you could file an insurance claim to get lost time back? That was the subject of this brief. I created a TV spot that shows the frustration and wasted time of a typical Zoom business meeting.
DAY 7: INKKAS FOOTWARE partnered with LucasFilms to launch a Star Wars themed line of shoes to coincide with the release of the latest film in the franchise. For this campaign I used digital, OOH and print to reach the target audience. Much like the Jedi, Inkkas is out to save the world – one shoe at a time. As part of the 1 Shoe 1 Tree project, Inkkas plants one tree for every purchase. In partnership with TreesForTheFuture, Inkkas is helping reforest the world to provide sustenance for local populations in developing countries.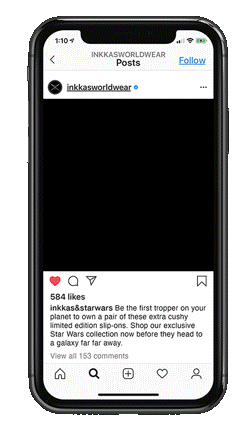 DAY 8: TJ'S FITNESS is a local gym that offers a full spectrum of fitness programs for individual, families and teams. I created a new logo and posters.
DAY 9: MIRALAX
Well, you know what it's for. A number of years ago while working very late, a group of fellow creatives at Ogilvy got into a discussion about the best euphemisms for doing number two. All these years later I thought it would be an unconventional way to advertise the brand.
DAY 10: JOHNNIE WALKER WHITE LABEL Image if you had access to one of the most limited barrels of scotch in the world. And you are one of a handful of individuals who will ever have the opportunity to taste it, only once. I created a once in a lifetime tasting expedition to Mount Everest basecamp.
DAY 11: MARVEL:
The brief: What if Marvel started a brewer. This one largely turned out to be a fun exercise in packing design with a little advertising thrown in.
DAY 12: CHIPOTLE
The breif: What if Chipotle started offering Italian cuisine along with Mexican? The flags of Mexico and Italy use the same red and green colors, only reversed. Also, the word yes is the same in Spanish and Italian "si." The only difference being the accent mark above the "i" in Italian. I created this social media ad to highlight these subtle differences with the goal of letting viewers know that creating an Italian menu is a natural extension for the brand.
DAY 13:
McDONALD'S ANTARCTICA The brief: What if McDonald's opened restaurants on the continent of Antarctica. Penguins make up the largest population on the continent. The biggest connoisseur of penguin is the leopard seal.
So, why not cater to that market with tasty penguin fries and fillet-o-penguin sandwiches. They're lovin' it.
DAY 14: GET OUT THE VOTE Well, it's time to start thinking about the November elections. This is an initiative to encourage eligible citizens to register to vote.
Don

Mulkey

CREATIVE

DIRECTion

ART

DIRECTion